Himalayan Hideouts: Rishyap, Darjeeling
The northern mountains of India withhold scenic beauty along with a sense of adventure incomparable to any other mountain range of the country. Riding amidst the Himalayas is always a pleasurable experience for Sheetal Bidaye. Here, we find she turns her wheels onto the road that leads us through the hills and forests of Darjeeling to uncover sparsely used trails and a few more interesting hideouts for riders.
Rishyap
Situated at an altitude of about 8,100 feet, Rishyap is a small tourist village close to Lava, in the Neora valley. At Rishyap, you can experience the undiluted charm of staying in a hill village, waking up with the view of the Majestic Kanchenjunga and spending a day among chirping birds.
The village is built on a hill slope.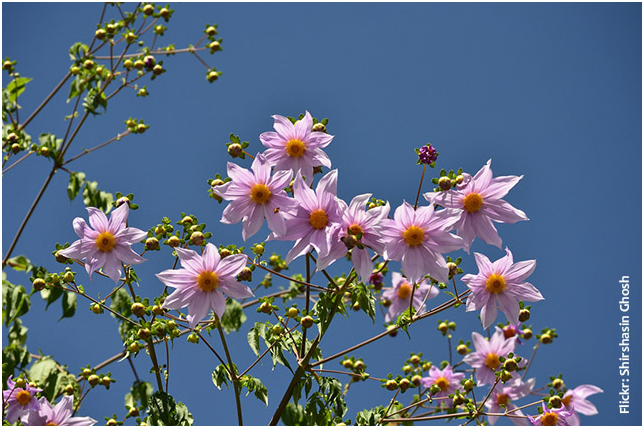 Flowers everywhere.
Rider's joy: Riders have the option of reaching Rishyap either riding their bikes or on foot (a great option for those who like to trek). As you ride towards Kalimpong, about 7 kms from Lava you will come across a right turn. Once you take that turn and ride for about 5 kms you reach the scenic village of Rishyap. This again, is a wonderful stretch of road but the last few kilometres are mostly not in great shape and larger vehicles have difficulty negotiating the steep curves, hence riders must exercise caution.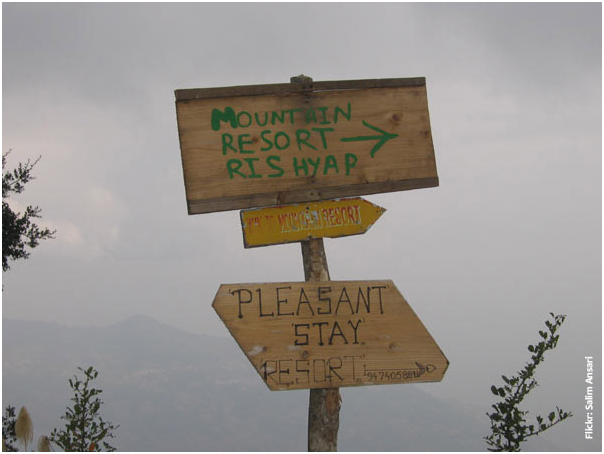 Do stay at Rishyap.
For those who choose the other option, the walk to Rishyap from Lava should be an exciting one, but only if you are not carrying too much luggage and don't mind walking for 5 kms. Locals will be happy to guide you as you enjoy a nice stroll through this enchanted forest.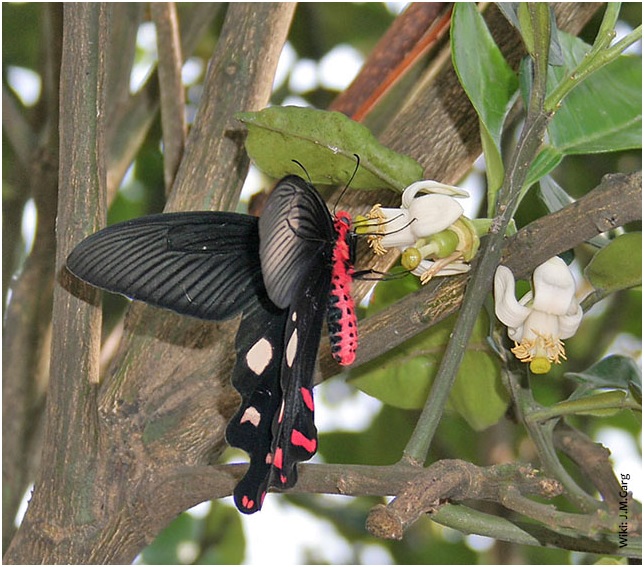 Butterflies all around the enchanted forest of Rishyap.
What you can do there: The weather in this part of the world is so invigorating that no matter what exercise or activity your body goes through, it never really tires you out. Some food and rest is enough to send you in search of more adventure, which equals to more fun!
Take a break, breathe in the crisp mountain air and relax yourself in this nature's bounty while you gaze in awe at the mountain range visible 300 degrees from left to right; Mt. Kharg, Kokthang, Rathung, Kabroo, Talung, Pandim, Khang-Chen-D-Zongha(local dialect), Simvo, Narsingh and Siniolchu. Quite a sight!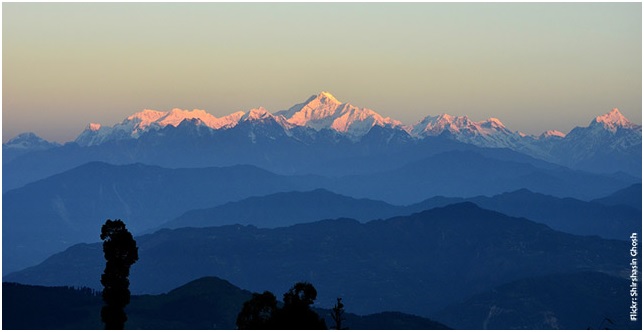 A view of the Eastern Himalayas.
Apart from the Kanchenjunga range, a visitor can also view the Sikkim, Bhutan and Nepal mountains from Rishyap, including passes such as Jelep la and the famous Indo-Chinese border pass, the Nathu La which has been opened up for trade.
Another place for excellent views of the Himalayas is the Tiffindara (Dara means Hilltop in local language). The same place is also sometimes referred to as Sherpa Dara. You could climb up the viewing tower at Tiffindara for better view of Rishyap and its beautiful surroundings.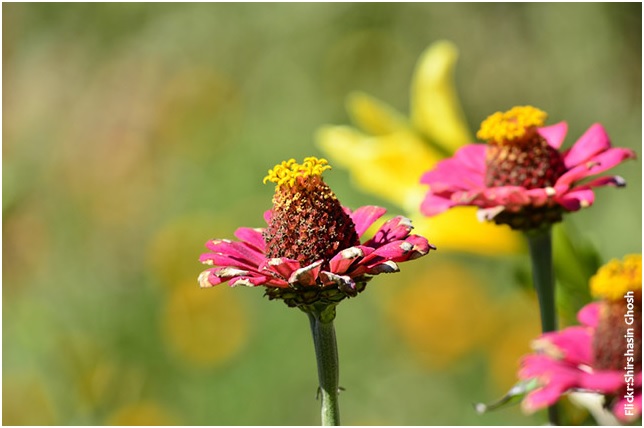 Beautiful surroundings of Rishyap.
As you relax at one of the viewpoints or at your cottage enjoying these views, you might get distracted by some tweets. No, it not that digital blue bird on your electronic device but the real twitter of a Himalayan bird! Rishyap is an ideal place for bird lovers. Some of the major species that can be easily traced here are the Green-tailed Sunbird, Wedge-tailed Green Pigeon, Blyth's Leaf-warbler, Red-billed Leiothrix, Rufous Sibia and the Tickell's Thrush. Listen closely to these bird calls before you set off with your camera in trail of that alluring chirp.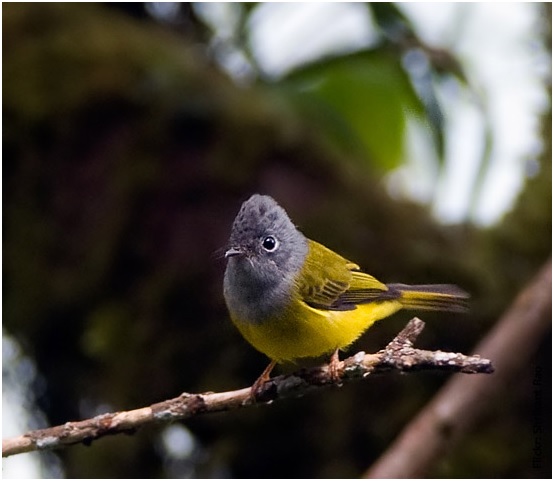 Chirping birdies of Rishyap.
Nature walks through the forest, short treks and camping along the hillside are enjoyable in the natural habitat of Rishyap.
For the traveller: The entire village of Rishyap is not covered by a motorable road and to see the whole of it, one must go downhill on foot, while the majestic Kanchenjunga towers right in front. This too, is a nice stroll as you pass by Gompas and quaint cottages with chimneys letting out pinewood smoke and eateries welcoming you with aromas of freshly baked bread and spiced noodles.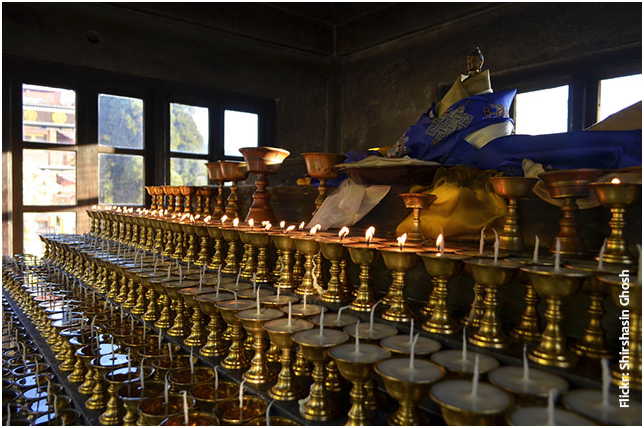 Buddhist Gompas are a pleasure to visit.
Over the years, a number of tourist accommodations have come up at Rishyam, yet mostly all of them are home-stays. Basic facilities are available such as running water and attached bath while these place also serve tasty home-cooked meals.
Nights spent at Rishyap are splendid with the night sky so clear and the stars shinning bright and seemingly closer! Sip some hot chocolate, sitting around a bonfire to keep you warm as you enjoy the stars above and the twinkling lights of villages far below.