Himalayan Hideouts – Mukteshwar, Champawat
Snuggled in the foot-hills of the majestic Himalayas, Kumaon is one of the most beautiful regions on Planet Earth. Located in the mountainous state of Uttarakhand, Kumaon not only boasts of dense forests, captivating views and ethereal beauty but also has its own rich culture and an impressive tradition. As we follow a thick trail of swaying Pines and tall Deodars, Sheetal Bidaye guides us to some more of the unexplored destinations in this part of the Himalayan Hideout series.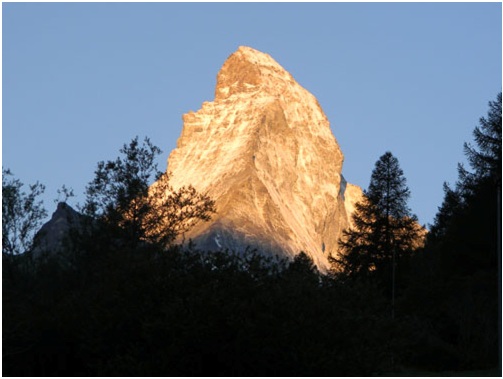 Glistening peaks of Kumaon
Mukteshwar
Situated at an altitude of about 7500 feet, Mukteshwar seems like an entire new planet,although just 350kms away from India's capital city, Delhi. Story says that Lord Shiva killed a demon at this spot and granted him salvation or mukti. The place got its name from a Shiva temple built 350 years ago named Mukteshwar Dhaam. Later, this scenic place got developed by the British as a research and education institute (IVRI) in 1893.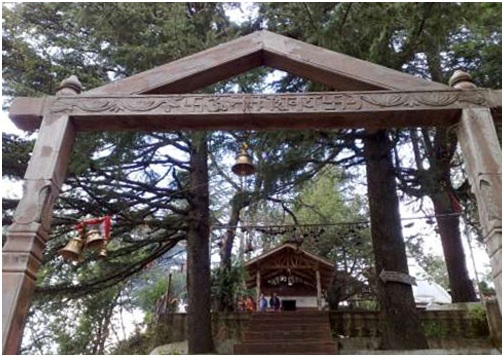 Mukteshwar Temple – An Ideal Place of Worship!
Riders' Joy:
The road leading to Mukteshwar is 26km of paradise along the densely forested region of Kumaon. The route is extremely scenic and will prompt you to get off your bike many a times. The silence of the jungle is quite alluring but be sure not to wander off track. Breathe in the heady aroma of pine and absorb the nature all around before the serenity is broken only by the sound of cicadas.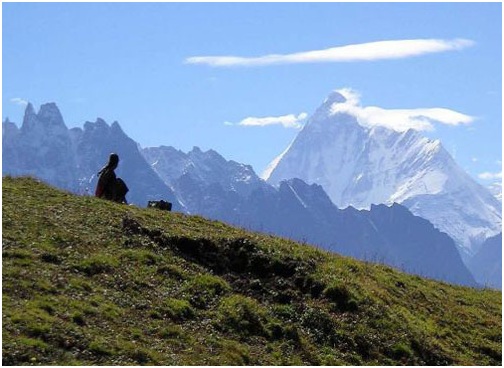 Natural beauty may lure you off-track!
What you can do there:
Unspoiled beauty of this region has much to offer. Wake up to the chirping of birds and as the day begins, watch the sun-kissed peaks shimmer under the morning rays. You could take your bike a little off the beaten track to experience some thrilling moments on the mountain side. Blue pine, deodar and dense oak woods call those who enjoy short treks full of bird and animal life. Those with an adventurous streak can go over to the over-hanging cliffs nearby, known as the Chauli ki jaali for rock-climbing and rappelling.
In the year 1929, Jim Corbet, the renowned hunter came to kill a man-eater who had terrorised the area and fell in love with the beauty of Mukteshwar. The bungalow where he stayed is a must visit. The beauty of Mukteshwar is unpolluted and unaffected till date. Photographers can rejoice in the astounding 180 degree views of the imposing Himalayan range from the mountain-top. Splendid views from either side of the mountain of Mukteshwar are the best form of distraction if solitude is what you seek.
Woods of tall conifers
For the traveller:
Accommodation options are growing in and around Mukteshwar from elegant lodges to campsites giving a feel of wilderness. Tourist rest houses and home-stays are also available. Mukteshwar has the advantage of being perched on a hill top and bound by fruit orchards and coniferous forests. You could easily find the right kind of stay to suit your liking; view of the majestic snow-clad mountains, scenic views of jungle trails or a stay in one of the fruit orchards.Food here is quite basic without much of an option other than the hotel kitchen but if you must, then you could try one of the eateries at the market.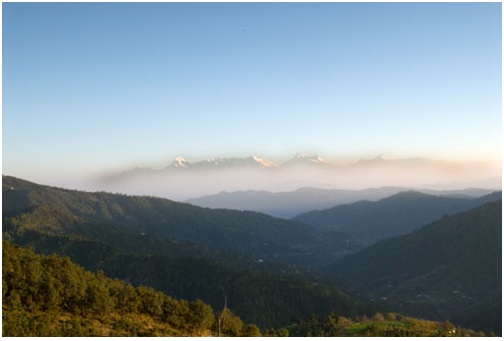 Splendid views of snow capped mountains
Champawat
Apart from being an extremely scenic abode, Champawat is a land rich in heritage and culture. Kings of the Chand Dynasty that ruled Kumaon considered Champawat as their capital and constructed many artistic monuments here during the 16th century.Champawat derives its name from Champawati, daughter of King Arjun Deo. The Chand ruler built the much revered Baleshwar temple with marvellous stone carvings at the same place where princess Champawati used to pray. She was also considered to be the sister of the 9 Naag Kings, which as per the Vayupurana, had made this lovely locale their capital too and was it earlier termed as Champawatpuri.
According to folklore, Paandavas from Mahabharata had spent a part of their exile here. Also, Champawat is said to be the place where Lord Vishnu reincarnated into a turtle orKurmavtar in Sanskrit.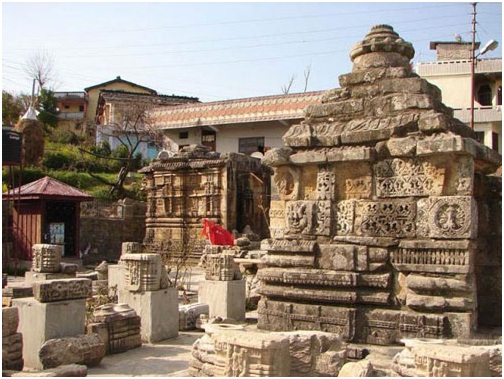 The temple built by rulers of the Chand dynasty
Riders' Joy:
Champawat is the eastern-most town in the state of Uttarakhand at a height of 5479 feet above sea-level. Riding to this destination means immense pleasure and a fairly adventurous ride.
The land of Champawat is fed by gushing rivers and their many tributaries keeping the entire area lush green and plush with flora and fauna. This is not only a nature lover's retreat but also a good opportunity for the adrenaline junkies to go mountain biking and off-roading through the streams and forests of Kumaon.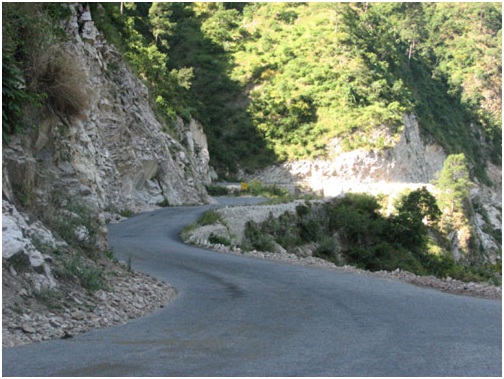 Wonderful roads
What you can do there:
Champawat is a place where you will be spoilt for choice considering the activities the place holds. Riding to the various monuments and tourist sites is one of your many options. Camping in the woods, angling and boating can be fun-filled activities apart from guided jungle trails and excursions to nearby places such as, 'Ek Haathiya ka Naula', Baleshwar and Nagnath temples.
The jungles of Kumaon have always been a delight for photographers because of its large number of animals and birds, yet travellers should be aware of their proximity to wild animals. Champawat was home to the infamous 'Champawat Tiger